WCG MAGI Clinical Research Conference
Save the Date for MAGI@home 2023
Monday, October 16 – Friday, October 20, 2023
Virtual
The No. 1 Event for Clinical Research Professionals
Success is best when shared. WCG MAGI events unite thousands of clinical research professionals who are passionate about transforming clinical research to change lives.
Our events have record repeat attendance for a reason:
Comprehensive programming around the topics you want most: 45+ sessions with practical tips, real-life examples, and best-in-class training from acclaimed experts.
Pre-conference sessions that tackle good clinical practice (GCP) training, research fundamentals, dissecting clinical trial agreements, and more.
Standardization of best practices for clinical operations, business, and regulatory compliance
Peer-to-peer networking: Connect, interact, exchange ideas, and grow. The WCG MAGI experience strengthens collegiality in a way that ensures the growth and success of clinical research.
of attendees
say MAGI offers better value than other conferences
of attendees
find MAGI more educational than other conferences
of attendees
say MAGI is more practical than other conferences
Why Attend a WCG MAGI Conference?
Gain insights you can implement immediately
Whether you're a clinical research novice or veteran, you will find a coherent and comprehensive program that focuses on your current needs for timely and practical information. WCG MAGI sessions emphasize practical tips based on real-life examples, with lots of interaction.
Build your network with high-value contacts
WCG MAGI conferences are specifically designed to facilitate networking and promote lasting relationships.
You'll meet people from all areas of the clinical research industry in an open, friendly and energetic environment. Help us build the clinical research community.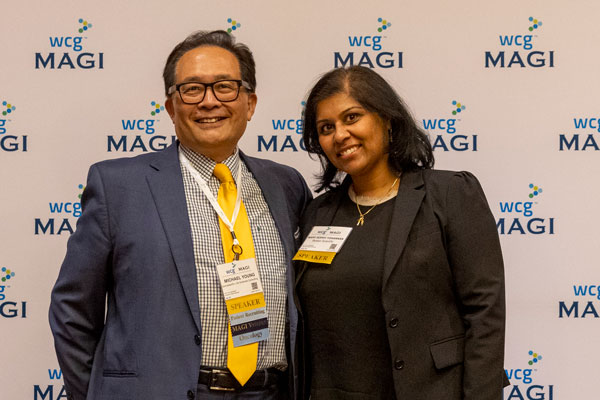 Get more value for your time and investment
We listen to our attendees and continually improve WCG MAGI conferences, resulting in a 99% satisfaction rate.
Attendees routinely rate WCG MAGI conferences as more practical (89%), of better value (84%), more educational (78%), and more interactive (81%).
Event Testimonials
"I've been practicing in this field for more than 20 years and learn something new every year. I love the commitment to include different perspectives (site, sponsor, CRO) on panels and address changes in regulations and industry best practices."
"After the first day, I started sending practical tips back to my company for immediate implementation!"
"MAGI is close to my heart as the most collaborative learning and networking environment in the industry."
WCG MAGI Resources
TEMPLATE
Clinical Trial Agreement (Sponsor Template)
ARTICLE
The "SPICI" Investigator Initiated Clinical Trial Agreement Clauses You Must Understand
INDEX
Index of U.S. Government Organizations and Websites
Looking for a MAGI Resource? We can help.
If you don't see the resource or document you need, email us and we'll do our best to find it for you.