InvestigatorSpace® Training & Safety Portal
Manage investigator training and safety reporting across all your sites and studies–with one login
WCG InvestigatorSpace is an all-inclusive site and study team solution that connects clinical trial training, safety reporting, rater qualification, and regulatory document exchange with a single login. This purpose-built solution harmonizes your functions to automate processes, increase efficiencies, and ensure audit preparedness – thereby accelerating start-up timelines, improving quality and safety, and reducing the burden on your sites and study teams.
WCG InvestigatorSpace can be live in just five business days, enabling your sites to get the first participant in sooner and have the ability to spend more time on enrollment and retention. Monitors have real-time access to training and safety records, including training assignments and exemptions, to maintain compliance across all sites in your study.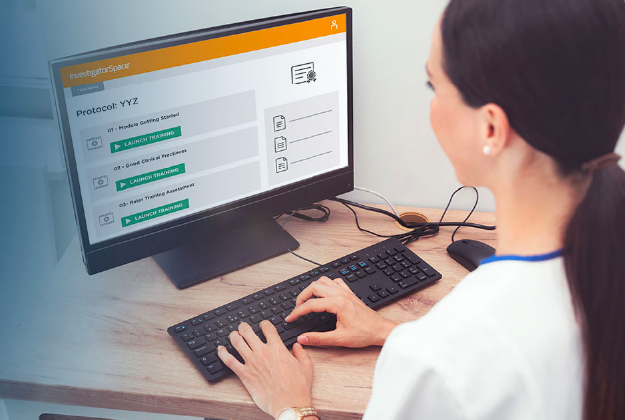 The most robust clinical trial training and safety technology in the industry:
country regulations supported
auditability and traceability
Leverage one platform for:
Clinical Trial Training
Simplify the training experience for study teams and sites with live face-to-face, virtual, on-demand, and SIV meeting delivery. WCG InvestigatorSpace hosts, delivers, updates, and tracks site training and documentation to ensure audit readiness and prevent redundant training. Keep clinicians engaged with ask a question, annotation, and audience response tools.
Safety Letter Acknowledgement
With built-in distribution rules for more than 125 countries, InvestigatorSpace sends notifications of safety events (adverse event, SAE, SUSAR, and VAERS) in a globally compliant, centralized, and automated process. Our precision safety reporting automatically pinpoints which stakeholders need to receive each safety document, eliminating overdistribution and keeping every study inspection ready 24/7. Eliminating duplicate and unnecessary reports through automation makes critical safety information easy to find.
Rater Qualification and Training
Provide standardized endpoint training to raters, ranging from minimal to highly experienced, for accurate, consistent, and objective endpoint outcomes. WCG's tiered qualification approach expands rater diversity, allows study teams to select and engage with the sites best suited for the trial, and improves the outcomes of clinical endpoints.
Regulatory Document Exchange
InvestigatorSpace provides a seamless experience for sponsors, CROs, and sites to exchange critical study information in one location through its best-in-class workflows and CTMS and eTMF system integration capabilities. Simplify global regulatory document complexity with centralized documentation that improves communication to sites, provides consistent monitoring, increases efficiency, and ensures compliance.
Mobile Application with Protocol Access
Achieve real-time documentation and reporting to efficiently certify site training and start trials faster. The mobile application provides easy access to study tools for the life of the trial. Study monitors can document face-to-face training with signature capture, assign and approve training at sites, capture training exemptions, and access the study protocol. Sites can efficiently acknowledge adverse event safety notifications.
Explore our library of supported rater scales
Through partnerships with scientific and training organizations, we host training material for a range of indications in the immunology/dermatology therapeutic area. We also support assessment scale development and validation projects for immune-dermatology indications. We have deep experience supporting these efforts and have developed specialized technology to support our customers.
What InvestigatorSpace clients are saying:
Schedule a demo of InvestigatorSpace
Contact WCG to learn more about how InvestigatorSpace helps sponsors ensure quality and compliance, can reduce study start-up time at sites, and enhances efficiency using automation for training and safety processes.