InvestigatorSpace® Training & Safety Portal
Manage investigator training and safety reporting across all your sites and studies–with one login
WCG InvestigatorSpace is an all-inclusive site and study team platform that connects clinical trial training and safety letter notifications within one login. This purpose-built system harmonizes your functions to automate workflows, increase efficiencies, and ensure audit preparedness – thereby accelerating start-up timelines, improving quality and safety, and reducing the burden on your sites and study teams.
WCG InvestigatorSpace can be live in just five business days, helping your sites get to first participant in sooner with less study management time spent on audit preparedness. On-demand training and automated workflows eliminate manual labor and increase staff efficiency – allowing your sites to focus more on participant care. Monitors have real-time access to training and safety records, including training assignments and exemptions.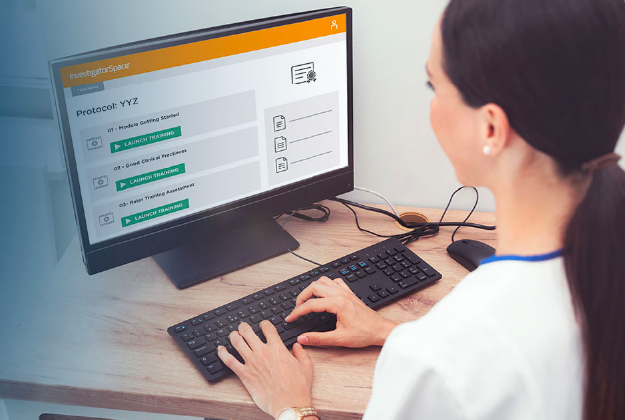 InvestigatorSpace training performance improvements
reduction in training costs
auditability and traceability
reduction in training asset creation time
A comprehensive platform for clinical trial training and safety letter acknowledgement
Simplify the site training experience and improve quality
Reduce site and study team burdens
Accelerate clinical trial timelines
Prevent redundant training and overdistribution
Leverage one platform for:
Clinical Trial Training
Sites enjoy easy access to in-person, virtual, role-based, and on-demand investigator training through the platform. WCG InvestigatorSpace also provides on-demand training reports and certificates to ensure audit readiness & reduce redundant training. Keep clinicians engaged with ask a question, annotation, and audience response tools.
Safety Letter Acknowledgement
WCG InvestigatorSpace streamlines safety letter distribution and reporting to eliminate duplication and reduce site burden. Safety events (SUSARs, AEs, and SAEs) can be entered quickly and easily via one portal, increasing efficiency, and communication.
Real-time documentation and reporting with IS Mobile
Achieve real-time documentation and reporting using IS Mobile, available on any iOS and Android device, to efficiently certify training and start trials faster. The mobile application puts the power of InvestigatorSpace on the handheld device allowing real-time access to study tools for the life of the trial, which increases efficiency and improves quality and compliance.
The IS Mobile application includes:
COA Express: Allows monitoring teams to document real-time training with signature capture and assign required training to site staff in real time.
Self-Registration: Site staff may request training or documents via IS mobile if they are just being added to the study.  The study team will then receive a notification for approval to access.
CCD Exemption Requests: Allows monitors to capture prior training documentation from an alternate system or method to generate a training certificate. 
Acknowledge Safety Notifications: Investigators or their delegates can review and acknowledge safety events.
The most robust clinical trial training and safety platform in the industry:
reduction in training costs
live meetings facilitated
The WCG InvestigatorSpace platform includes:
In-person Investigator Training
Virtual Investigator Training
On-Demand Training
Training Certificates
Role & Task-Based Training
Rapid Content Development
Live Stream Workflow
Mobile App for On-Site CRA Training
Safety Letter Distribution & Reporting
Regulatory Document Exchange
Critical Communication Distribution
Study Home & Resource Center
Help Desk Support
CTMS and ETMF Integration
Amendment Rollouts in 24 Hours
Single Sign-On
Immunology Endpoint Assessment Training
Cross-Sponsor and Cross-Study Exemption
Uploading of Content
Explore our library of supported rater scales
Through partnerships with scientific and training organizations, we host training material for a range of indications in the immunology/dermatology therapeutic area. We also support assessment scale development and validation projects, for immune-dermatology indications. We have deep experience supporting these efforts and have developed specialized technology to support our customers.
What InvestigatorSpace clients are saying:
---
---
Schedule a demo of InvestigatorSpace
Complete the form to schedule a demo and consultation with WCG.