Revolutionizing the IRB Submission Process with WCG's Connexus
Connexus is a groundbreaking platform designed to transform the way clinical research professionals submit, track, and review their studies. Developed based on invaluable feedback from research experts, Connexus revolutionizes the IRB submission process, offering unparalleled ease of use, accelerated submission speed, and comprehensive visibility into review statuses and timelines, all consolidated in a single, secure location.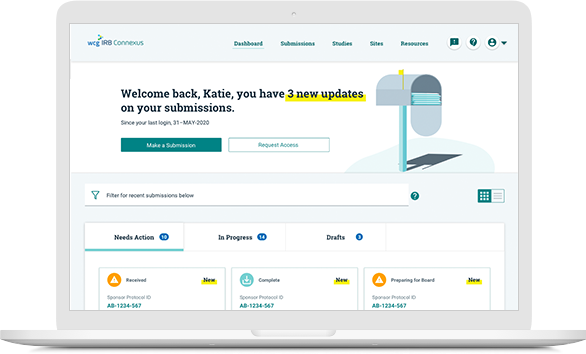 Explore the Benefits of Connexus
Time Saver
Experience the transformative power of Connexus as it slashes your IRB submission time by an astounding 50%. Leverage its intuitive interface, streamlined processes, and meticulous attention to detail.
Streamlined & Simplified
Easily assess all your studies' statuses and identify which ones require your attention, providing you with a comprehensive overview of your research activities.
Efficiency Empowered by Anticipated Timelines
Say goodbye to uncertainty and hello to clarity as you navigate through the process. By equipping you with estimated timeframes, Connexus empowers you to plan effectively.
Have questions about your submission?
Our dedicated IRB Client Care Specialists can assist you with questions regarding uploading documents, adding users to your study, or any other inquires that arise during the submission process. You can email at the link below or call us at 855.818.2289.
Transform your process with Connexus
Discover the future of IRB submissions and reviews with WCG Connexus. Embrace the advantages of simplified workflows, real-time updates, and uncompromising ethical standards. Be part of a research community that thrives on efficiency, transparency, and security.
Set up a Connexus account today and unlock the full potential of your research activities.