Data Monitoring Committee
Reduce the risk of safety concerns throughout the life of your study with an expert Data Monitoring Committee
As an industry leader in Data Monitoring Committee (DMC) management, also known as a Data and Safety Monitoring Board (DSMB), our managed Data Monitoring Committee solutions deliberate over un-blinded data to provide recommendations to the sponsor as to whether a trial is continued, modified, or stopped because of safety concerns, overwhelming benefit, or treatment futility. The design and delivery of our Data Monitoring Committees harmonize with FDA, EMA, and ICH guidance.
We work with clinical trial sponsors, academic experts, and regulators to enhance trial integrity by providing independent, unbiased recommendations to sponsors. With our global network of more than 1,000 medical experts who serve as Committee members on DMCs and proprietary technologies that provide "easy to evaluate" data packages, WCG provides a streamlined approach for providing DMC support that ensures the necessary patient safety oversight and effective decision-making.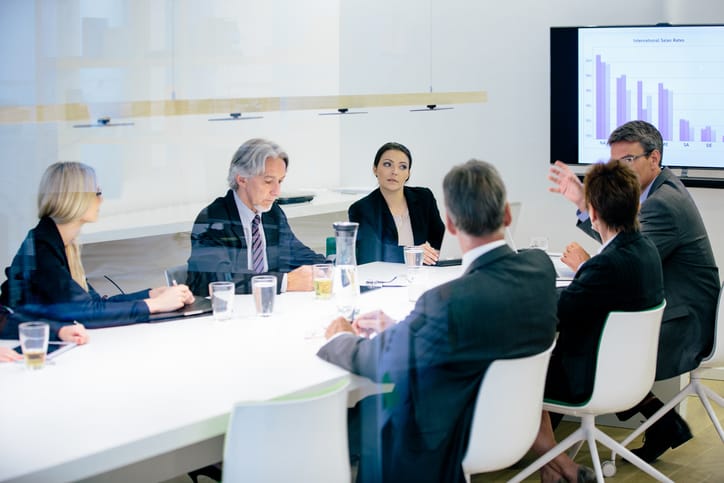 Ensure proven, sound, and independent management, analysis and reviews of your trial
Over the past two decades, we have recognized that the proper expertise and the ability to deliver timely analyses are key to effective Data Monitoring Committees. Allow us to deliver that to you: schedule a consultation.
DMC Member Coordination
Our global network of more than 1,000 medical, statistical, and safety experts represent more than 25 countries, 75 therapeutic sub-specialties and approximately 250 global academic institutions. These experts — from a wide variety of backgrounds, geographic locations, and therapeutic specialties — are available to serve as DMC members and/or expert advisors in the clinical development process.
Independent Statistical Reporting Group and DMC Liaison
Our statisticians serving as the independent statistical group reporting to the DMC take an active role in the process. We write thorough, but flexible, DMC Charters that suit the needs of all stakeholders. As the liaison between the Sponsor and the DMC, we schedule and lead DMC meetings, helping to ensure proper lines of communication are followed to protect study blinding and integrity. Each DMC report is tailored to the study at hand and uses innovative statistical and programming techniques to summarize the unique set of data. Providing the DMC with clearly written and well structured reports that clinicians and statisticians alike can readily interpret, facilitating their ability to make informed judgments.
Sponsors partner with WCG because our member network brings:
Leading clinicians and biostatisticians with deep expertise in data and clinical trial conduct
An unbiased, objective third party; versus working with reviewers with a lack of vested interest in the clinical trial
Clear, timely communication before new projects, which ensures understanding and agreement on expectations and availability requirements
Significant time and expense savings in member recruitment, onboarding, and training
Easy-to-use technology and decision support tools
Improve the quality and effectiveness of clinical trial data
Enhancing trial integrity and reducing variation in important clinical trial events are critical components of risk mitigation and patient safety. To improve the quality and effectiveness of clinical trial data requires regulatory expertise; through our endpoint adjudication and data monitoring safety committees, sponsors and CROs can benefit from a network of over 1,000 members to enable more informed decision-making. Their expert reviews deliver reliable, trusted information to support critical decisions around clinical development programs.
WCG brings decades of experience serving as the independent statistical group reporting to the DMC and provides a unique advantage in supporting DMCs on all sides of the table. We are able to "think" like a DMC, as many of our statisticians have also served as DMC members on Committees and have developed DMC intuition.
Sponsors and DMC members widely recognize us for the accuracy and clarity of our monitoring reports and our skills at supporting DMC members, because:
We recognize the differences between interim data reporting and final analysis reports. We appreciate that DMCs work most effectively when they are not overwhelmed with the entire CSR plan.
We respect the DMC's charge to request additional information and strive to be flexible and accommodating ad hoc requests to modify the report and the presentations.
The great breadth and depth of statistical expertise WCG has makes us nimble and deft at navigating the complex challenges that may confront a DMC when serious or unexpected trial issues arise or when a DMC is tasked with reviewing formal interim analyses. Our approach to DMC reporting facilitates efficient identification of potential safety concerns and promotes grounded and nuanced recommendations.
Let's discuss how WCG's Data Monitoring Committees can help enhance your trial's integrity
To explore how we can help with your scientific review requirements, we suggest an exploratory conversation to assess your plans and how our capabilities can be leveraged to assist. To start, simply fill out the form.